WELCOME

---
This is my small tribute to the music I listen to. Contained herein is a plethora of information on (mostly) various Swedish Death Metal-type CDs. Band links, tracklists, and a brief review for each CD that a band has come out with, and I bought and listened to, and thought it worthy of reviewing can be found by following the links below. I hope you enjoy reading. If you don't then I don't apologize, as I enjoyed writing it and that's essentially what matters. :)
---
BANDS A-F
Bands so far: Agathodaimon, Anathema, Arcturus, At the Gates, Carcass, Children of Bodom,
Control Denied, Corrosion of Conformity, Cradle of Filth, Dismal Euphony, Down,
Enya, Fear Factory, Flesh Field.
---
BANDS G-O
Bands so far: The Haunted, Iced Earth, In Flames, Kreator, Kyuss, Miranda Sex Garden,
Nothingface, Night in Gales, Opeth, Overkill.
---
BANDS P-S
Bands so far: Pain, Pantera, Paradise Lost, Rammstein, Sentenced, Sepultura, Sevendust,
Sinergy, Slayer, Stabbing Westward, Summoning.
---
BANDS T-Z
Bands so far: Tempest 2000, Testament, Theatre of Tragedy, Therion, White Zombie, Young Gods.
(There aren't many bands within these letters, unfortunately.)



It all started (yes...another boring story) with Top Gun. The Danger Zone song. When I was seven years old I thought it was the most energizing song in the world. My mom's music sure didn't motivate me like that. So a couple years later Guns and Roses became popular, so naturally I ordered a bunch of CD's from Columbia House (once I got a CD player...in the form of a Sega CD, but that's another story) so I could listen to them whenever I wanted. But that wasn't enough (neither was Nirvana, Bel Biv Devoe, Duran Duran, or any other of the eight CD's I ordered.

So I blew 16 dollars on Pantera's Far Beyond Driven (I was 15 at this time I believe..Camelot didn't have a Parental Advisory policy). And I LOVED it. From there I went to Vulgar Display of Power and then Cowboys from Hell. And that's all I listened to (with the exception of Sega CD game music...Stellar Fire and Terminator mostly) for a full year. I had to move on to something else. So I went to Sepultura. I bought Arise. And I LOVED it...after a while. I then proceeded to buy all of THEIR available CD's. When Roots came out I stopped liking them. I tried out a few other bands. I just wanted MORE.

Eventually I joined the Army, and went through Basic Training, and then to AIT. After 5 months of putting up with their crap I was finally allowed to use a car. So I asked Mr. Bobby (if you don't know who he is, you can find out somewhere in this mess) to bring my car and he did. A while after I went to the mall and picked up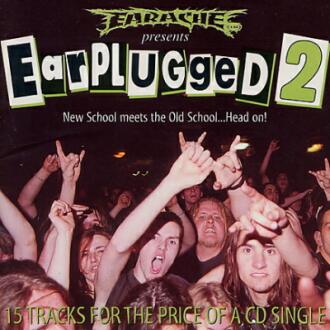 Earplugged2: A sampler CD from Earache Records. On there was about 14 different bands. All but two of them crap. But one of the two....At the Gates...is exactly what I was trying to find through my relentless search of different bands and styles of metal. The one song...Blinded by Fear..was everything I ever wanted to experience in music. All compressed into 2 and a half minutes. The other band was Carcass, with Keep on Rotting in the Free World (They have a good use of pun-type sentences). From there I tried other bands published by Earache...they were all crap. So I went on the internet and tried to find out what bands are associated with At the Gates in any way...so I looked at the 'Special Thanks To' section in the back of the lyric book...so I read metal magazines at Barnes and Nobles...To no avail. I have only found one band that comes close to ATG, and that's Withered Beauty, a band that made one CD and it was produced for less than 4 months before they pissed off Nuclear Blast (thier publisher) and they were a band no longer. It amazes me that I was able to get a hold of their CD. I could tell you about it if you like....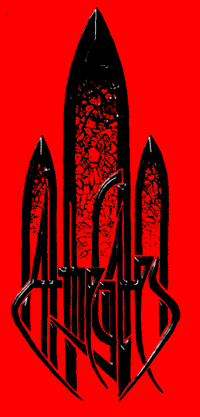 A good reason for me ugrading this page...1, The last one looked like crap. 2, I can add new CD's very easily now...and IN alphabetical order at that.

I've noticed after looking over some of my reviews, you wont understand my descriptions unless you already know what I'm talking about. There's not much I can do to solve this issue...I can go on and on and on about all the things I know about some of these bands. It just wouldn't be practical to put it all on the webpage. If you want me to disperse some of my knowledge to you (or tell me I'm wrong or stupid)...E-mail me and I'll give you what I've got. I plan on putting up a downloadable mp3 and changing it every once in a while, too.


---
UPDATE: Now I've gone and done it... The new table width in the review sections is now fixed at 985 pixels, so if you are using less than a 1024 x 768 resolution, you will have to scroll left and right to read it. I'm not sorry for the inconvenience. If you use less than 1024 x 768 then you should be ashamed of yourself. This was done so that the band members and their respective instruments would line up properly. I've also refined a few reviews.. more to come in the far future.
---
---
Another thing...Almost forgot to mention with each of the (currently four) pages, there are a LOT of pictures going to be loading. If you are using Internet Explorer and have a slow connection, it will give up if the whole page is not done within a certain time..and you will have a little red 'X' instead of a picture. You can either Refresh (hopefully the ones already loaded would be stored in a temporary file) or right click and click 'Show Picture". -of course this will not work in Netscape 6.2. The picture size properties are as of yet undefined, so you will not see a thing if using that browser. It would be best to refresh the page multiple times, or wait a few years until I get off my ass and put the size properties in all the CD cover pictures..which still wont allow you to view them, but you'll at least get the idea :)
---