As you may be able to tell, there is a smudge in the upper left corner of the picture of the lawn-park-thing. On bright pictures, this smudge will plague my photographs until much later, when I notice it, and wipe my lens clean. Also don't mind the black edges around the aforementioned picture... those are there because I rotated it slightly to level it out and forgot to crop it properly (these pictures were selected and modified a very long time ago and I'm not in the mood to go through them again). (UPDATE: I went through them again. Fixed it.) (Not that you saw the update, because I haven't published this page yet... not officially, anyway.) (Aren't you glad you're reading this?)
The Guinness factory tour wasn't so much a tour as it was a "Go in here, follow the signs". There was a lot to see and a lot to do, but unfortunately there wasn't much time to do it. Lots of history, lots of exhibits... people sitting behind counters with displays on entire floors with no one walking around, while the Gravity Room (the place where you get your free glass of Guinness) was packed with kids just out of college for the day. In hindsight, I would have not gone to the Gravity Room, as the Guinness there tasted just like any old Guinness in the states, and throughout our trip the Guinness I had in various restaurants and pubs across the country tasted better. The place was pretty neat all in all, and what I remember most are the Dyson hand dryers (picture found on internet) in the restrooms that you just won't see in the US (though you may have seen the commercial for them). I also remember the smell of the place being quite intoxicating. I certainly do love Guinness.
As far as the historical part of the tour went, I don't remember too much of it. The guide talked about how Ireland invested in education... but the thing that caught my attention were when she mentioned tax breaks (because I recently read the same thing in the Fair Tax book) for corporations that relocate to Ireland. Yeah you can invest in education, and it certainly can make you more competitive as a nation, but you need industry in your nation to keep your educated population working there. When you offer low taxes, that's what really invites businesses over (they can just import educated workers if they need to - the U.S. does this all the time)... even though the working wage over there is 50% more than what it is here (well, in USD at least). I know this isn't supposed to be a political post, but at times I think it needs to be mentioned because everyone (we met, interacted with) in Ireland seems to be much more politically aware than I'm used to in the states. [Late edit: I'm two years smarter since I typed this paragraph, and while I still believe in the low tax mantra, there are many more dynamics to economies than I could have guessed at that point, and if I were to write more about it, I'd have to make a separate page.]
After doing the tour(s) around Dublin we were to go back to the hotel and find something to eat (one of the few meals not provided to us by the tour). We ended up taking a cab to a pub somewhere downtown. The waiter was very slow, and didn't speak English. The couple we were eating with (in their early 60's), the guy sitting across from me got fish and chips, and asked for lots of lemon. The waiter returned with a single quarter of lemon on a small plate. There was a little hostility... but eventually the guy got the two lemons (eight quarters) that he wanted. I had Guinness beef stew that was absolutely delicious. I don't remember what the wife got (she says lamb shank, but she's not sure), but it wasn't as good as what I got. The bill totaled 45 Euros for the two of us, which translated into English as $70. After dinner we took a cab back to the hotel, and it was that evening that there was a C.I.E. sponsored "get-together" with a drink (just one, though the brochure did not specify how many... but Jim Lynch definitely did). The back of the pub attached to the hotel was sectioned off for us, and it was very crowded. Everyone introduced themselves, and everyone's eyes were on us. We were the fresh meat of the group, and when they found out we were on our honeymoon it was difficult to escape smiling eyes for the rest of the trip.
We went to bed... I wish I could remember the name of the hotel, but it wasn't all that impressive. The lobby was nice, but the room was very small and basic. The view was of a gravel and tar roof top, with another building right on the other side of it. There was a lot of construction going on throughout the day (which made it hard to nap earlier)... Luckily we were only there for one night.
Getting around Dublin was pretty interesting. Glad I wasn't driving. How this guy managed to maneuver this bus around the way he did I'll never really understand. Some sort of leprechaun magic. The place is chock full of narrow roads with narrow lanes; inches of margin of error where buildings are lined up right against the curb. Roundabouts with four lanes are pretty common. That, and cars are not scared to get close to the bus. There were times where a car would disappear completely out of view and no matter how hard I pressed my greasy face to the bus window, I couldn't see it... swearing that it went under the bus. Traffic was fairly bad. Like DC (where I live) they have a commute problem where people working in the city can't afford the housing there... Though it's not nearly to the scale DC is.
Throughout Dublin we got a lot of talk from Jim regarding the skyrocketing house prices and various political speak about how the EU was providing a lot of services to Ireland, while simultaneously sucking away its soul. Below is a quick video of Jim talking about government built housing (I was trying to save space on the memory card so I didn't record for very long).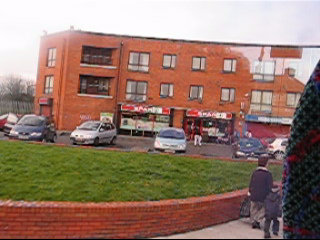 VIDEO: 3.6 MB - 15s


Jim talks about corporation housing.